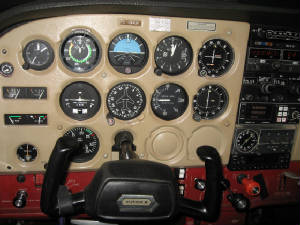 Private Pilot Licence is an admission requirement for this Program
An instrument rating provides you with the freedom to travel when the weather is too low for VFR pilots. This course trains you to fly solely on instruments without visual reference to the ground.
This program is approved by Private training Institution Branch.

Ground Training
$325.00
Flight Training (C-172)
Aircraft rental

Instructor
Total
40 hours of Dual @ $243.5
$6980.00
$2760.00

$9,740.00
8 hours of pre/post flight briefing @ $69

$552.00

$552.00
IFR Ground School
$599.00
$599.00
TOTAL:
Prices do not include Fuel Surcharge

$3,911.00

$10,891.00
Transport Canada Fee
Medical, Flight Test examiner, written exam, license, processing fees: $970.00

NOTE: Prices are subject to change without notice.